A wonderful family activity on board during the summer holiday
     On the Ships 80 Birthday on the Morning of Saturday 17th March 2018 (St Patricks day) Ngaire Bushell of the Imperial War Museum organised the Ships Veterans to be present along 2 Deck Passage way to meet and talk to the visiting public, this was so successful that it was decided to run these session for the public during School Holidays.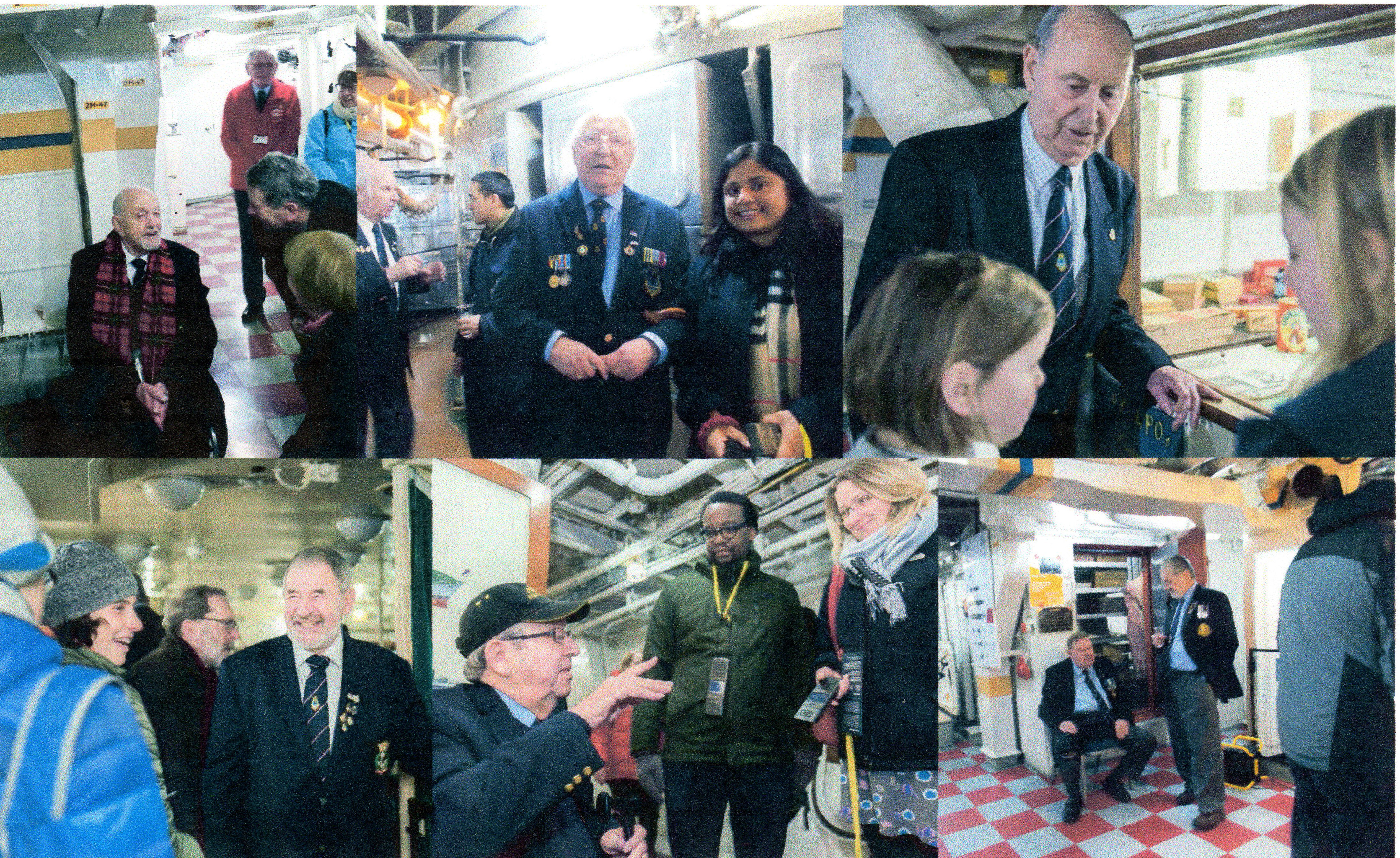 On Wednesdays over the six weeks of the summer School holidays visitors to HMS Belfast were given the wonderful opportunity to meet veterans and eye witnesses and have conversations, ask questions, take photographs and do a great deal of learning!
     But you do not have to take my word for it! I would like to share one visitor's comment they wrote on the Imperial War Museum' facebook page:
'Wow this is really moving. What an amazing opportunity for young people to hear directly from someone who experienced this. You can't beat the powerful impact of the human story told first hand'
     I think this comment truly sums up what the We Were There programme is all about and I would like to thank from the bottom of my heart all of the veterans and eye witnesses who took part over the six weeks and the volunteers who donned their red volunteer shirts to help me ensure that you were so well looked after with copious amounts of tea while you were out 'on watch'.
     If in reading this you feel inspired to share your memories with visitors please do get in touch. I cannot emphasise enough how important your enjoyment of the day is to me and I am ensured by all who take part that they really do love taking part especially because the public are incredibly interested- indeed proud- to meet them. It is my firm intention that as this programme continues that ensuring your enjoyment is paramount in my thoughts. Please do email me at.
nbushell@iwm.org.uk
     The day starts with a cup of tea or coffee in the 2D starboard arctic messdeck which is used for School groups packed lunch area, and we take up our stations at 11.00am & finish at 3.00pm.
     We the Veterans are superbly looked after by the IWM Volunteers in their red IWM Volunteer shirts. The interaction we have with the public and the interest they show, especially with the young is amazing, it is beyond description, the question and enquiries we are asked are so relevant.
     The veterans that have taken part are,  #667 Wally Filby Able Seaman 1962-63 who is Stationed outside the Sick Bay #465 Len Brice able Seaman 1949-50 who is in the 2C forward Arctic messdeck, #317 Ron Yardley Telegraphist 1950-53 in the 2D port Messdeck, #746 Paul Benton Stoker 1961-63 by Ships Company Dining Hall, #892 Bernie Bristoll L/Telegraphist 1962-63 who is always in the Bridge Wireless Office teaching the public and young people Morse code with the ships Amateur Radio Society. Also present on a couple of occasions has been #665 Richard Thorne S/Lt 1961.
     The other non Belfast veterans that take part in these "We Were There" days are Fred Sutton ex RN artificer who served during D Day, Edith Hine who was evacuated from London as a Child during the war, and Anna Cervegan a Hungarian who was a refugee during the second World War.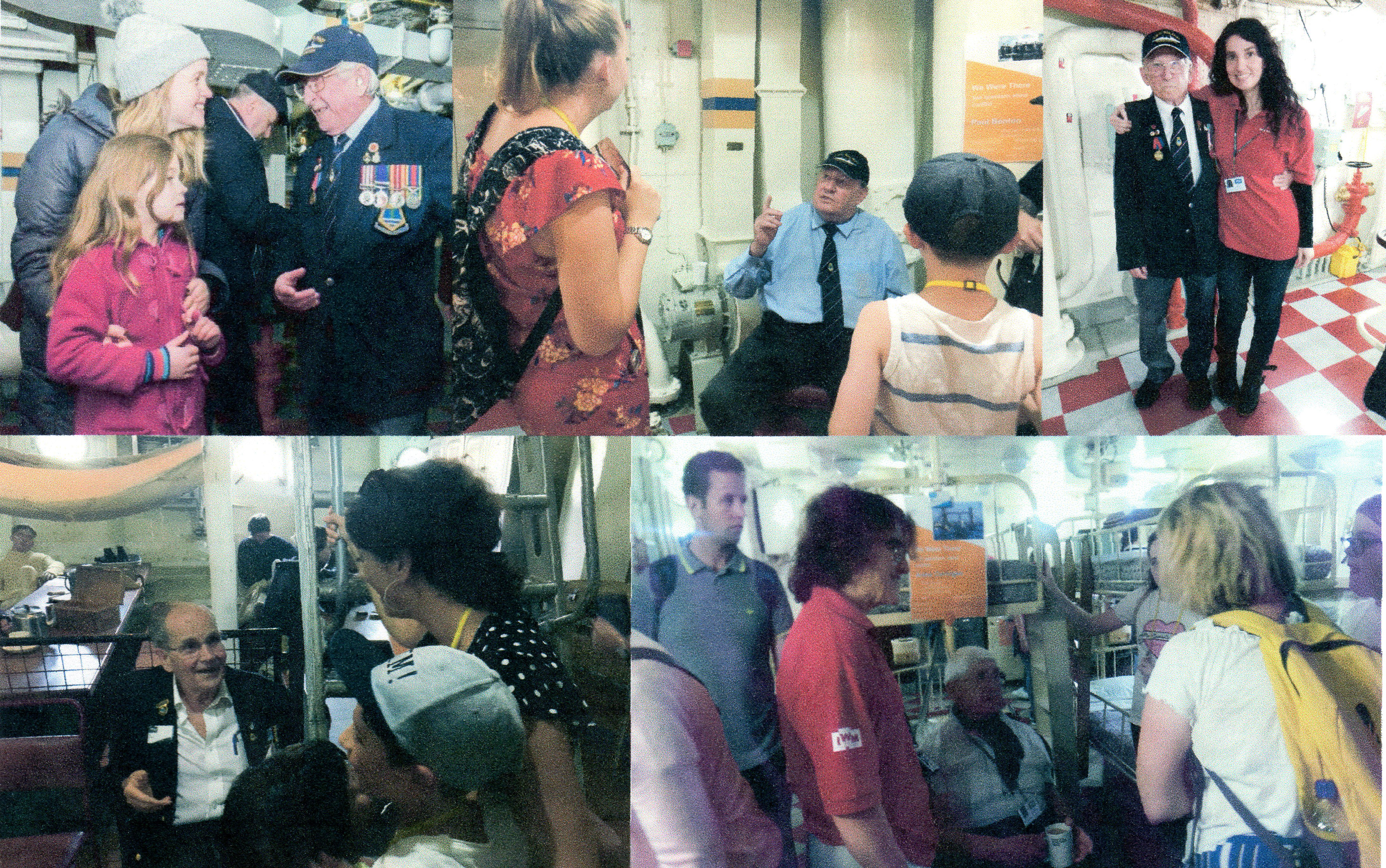 It does cost money to put these events on and we as an Association presented a cheque of £1,000 to the IWM at this year Trafalgar night dinner to be used to ensure that these events continue, Ngaire has said that this will ensure that these events continue for at least another two years.
     Two more We Were There days were put on during the Autum Half Term on Wednesday 24th & Friday 26th October. It is not intended to put them on during the Christmas Break, but they will continue next year during school holiday including half terms.
     So watch this space for dates, and if you wish to take part please get intouch with Ngaire Bushell at email
nbushell@iwm.org.uk